Valeri Larko, master of the urban fringe
Published on April 10, 2012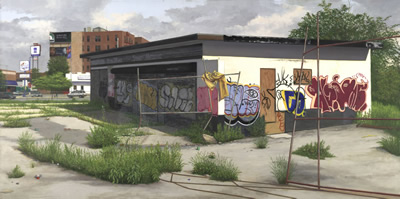 We added the "master" part - the bit about the urban fringe comes from the "artist's statement" page of Valeri's snazzy new website. If you enjoyed the paintings we featured last spring, the site's very much worth checking out. As will be, no doubt, the two shows she has coming up, and the work she has up for sale on Folio Leaf. The details, straight from Valeri:
My brand new and totally improved website is up and running and includes recent paintings added to the New York Series Galleries.

New York show

My paintings will be included in a two-person exhibition at the J. Cacciola Gallery in Chelsea this summer. Save the date:

Opening Reception
Thursday June 28 from 6-8 pm

J. Cacciola Gallery
537 West 23rd Street
New York, NY 10011

Milan show

If you're visiting Italy this summer and are in the Milan area, please stop by the Barbara Frigerio Gallery. My paintings will be included in a summer group exhibition in June.

Barbara Frigerio Gallery
Via Fatebenefratelli 13
20121 Milano

Folio Leaf

Last but not least: Several of my oils on prepared paper can be found on Folio Leaf, a website that features works on paper.