Suggested Reading for Characters on The Walking Dead
Published on October 12, 2015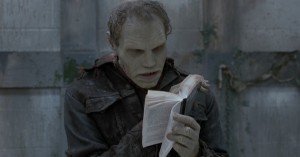 Although the characters on AMC's hit series The Walking Dead have very little time between slowly trudging through the woods, killing things with knives, and whispering at each other to sit down with a good book, here's what we recommend if they did.
Rick Grimes – Maybe Dale Carnegie's classic How to Win Friends and Influence People could help Rick become a better leader to the core cast? He'd probably be kind of surprised when he flipped through the index and didn't find the words 'punching' or 'machete,' but if he took the time to really study the text I think it could help him lead everyone to their death much more manageably.
Carol Peletier – While many authors have ripped of H.P. Lovecraft, Thomas Ligotti seems like the only one who read the cosmic horror generated by the master and thought, 'This guy gets it.' If Carol sat down with Ligotti's own Songs of a Dead Dreamer, she'd probably have a similar reaction.
Daryl Dixon – Daryl doesn't strike me as much of a reader, but he's got daddy issues and used to be a biker so I'd toss him a copy of Zen and the Art of Motorcycle Maintenance by Robert Pirsig. Maybe it would chill him out, although most likely the greatest benefit would be that if he started spouting quotes like, ""Sometimes it's a little better to travel than to arrive" all the time, the other characters would probably stop giving him such a hard time when he wanders off to spend time alone.
Glenn Rhee – Glenn is about to become a father, assuming he or his wife of their unborn child isn't eaten by monsters, first, so I'd recommend he spend some time with Spoiled Brat by Simon Rich so he could at least have a laugh while he's waiting to lose everything that matters to him.
Maggie Greene – Maggie's watched her entire family die over the last season or so of the show, and I don't know if these adult coloring books are actually as calming and therapeutic as I've heard but I'd probably give her one of those. Actually no, they probably don't come across many crayons in the dirty, zombie infested woods of Georgia. How about…Wild, by Cheryl Strayed, instead.
Michonne – This is a tough one. Michonne's smart, fierce, sympathetic…maybe a little too pragmatic to get wrapped up in reading, given that she lives in a zombie world, so it would be better if we gave her something short…are there books about sword maintenance? There must be, right? I'm afraid to look through Amazon for books on sword maintenance because then my recommendations are going to become all weird.
Carl Grimes – Haunted pre-teen Carl would probably find Cormac McCarthy's Blood Meridian a hilarious romp.